Isiagu is an African wear peculiar to the Igbo tribe. It's a beautiful material you can't but fall in love at first feel of it.
Disclaimer: I can be if you click on a link and make a purchase, compensated via a cash payment, gift, or something else of value for writing this post at no extra cost to you. As an Amazon Associate, I earn from qualifying purchases. Please read my full Affiliate Disclosure for more information.
Yesssss!
My favourite couple took that forever walk on Jan first this year and I so much wanted and planned to be there but you know how it is with planning and sometimes it doesn't go as planned.
I looked forward to this wedding like it's mine, the prep, the jokes, the stress and ofcourse the prayers… I was shaa there in the spirit.
It might have gone but we are painting Nigeria colourfully when we have a get together soon.
Well on today's blog post, I have been waiting for Dec 2019 and first week of 2020 brides to walk down the aisles so that this blog post can be upto date.
However seems like last December-Jan brides had a meeting to somehow include isi agu in their wedding attire including my own people.
What is Isi Agu?

Isiagu also known as chieftaincy is an African wear peculiar to the igbo tribe of which I am a proud member of the tribe.
It is a high quality suede material with prints of lion head on it (isiagu means lion head in Igbo language).
A material not worn by many initially except those conferred with chieftaincy title or some traditional igbo title but now almost everyone and anyone can access the material.  It was a material and fashion exclusive to the Igbos that whenever you came across someone wearing it, you will be certain that the individual was/is from igbo and probably a titled man.
Not sure I remember women wearing Isi agu infact I think a couple of years back when a female celebrity wore it to a wedding, I remember reading a couple of backlash she got from people concerning it but these days anyone can wear it including kids.
It's one of those "things" being modified in Igbo land and do I feel somewhat about it? Not sure, I mean it's a wear though it held a significance among the Igbos.
When sown for some reason I don't know, there's always a pocket with gold bottoms that ofcourse has gold chain linking them up. It can be sewn as long sleeve or short sleeve, paired with  red fez hat or Igbo leopard cap.
Errm not sure I have ever had soft spot for the igbo leopard cap but definitely like the red fez cap.
Isiagu was mostly worn to Weddings then and whenever you find anyone wearing isiagu with complete cap, be sensible enough to give them their accruing respect at high table.
Hehehe these days, people are coming out of the norm and using our beautiful isiagu to sew different styles hence the purpose of today's blog post, sit back and scroll through.
Now this lady right here is my own personal person and I am so in love with the creativity. She's always liked anything native and wasn't entirely surprised when I saw this as her wedding gown instead of the normal white wedding gown used . It was definitely out of the norm and I liked every bit of it.
Her Bridesmaids all wore isiagu including her husband and his groomsmen.
After this I was convinced there's no more isiagu in Nigeria assuming I want to get some for myself.
Using isiagu to sew suit was it and it did really come out beautiful.
okay, the ladies are coming up with styles.
now as agbana?
Interesting….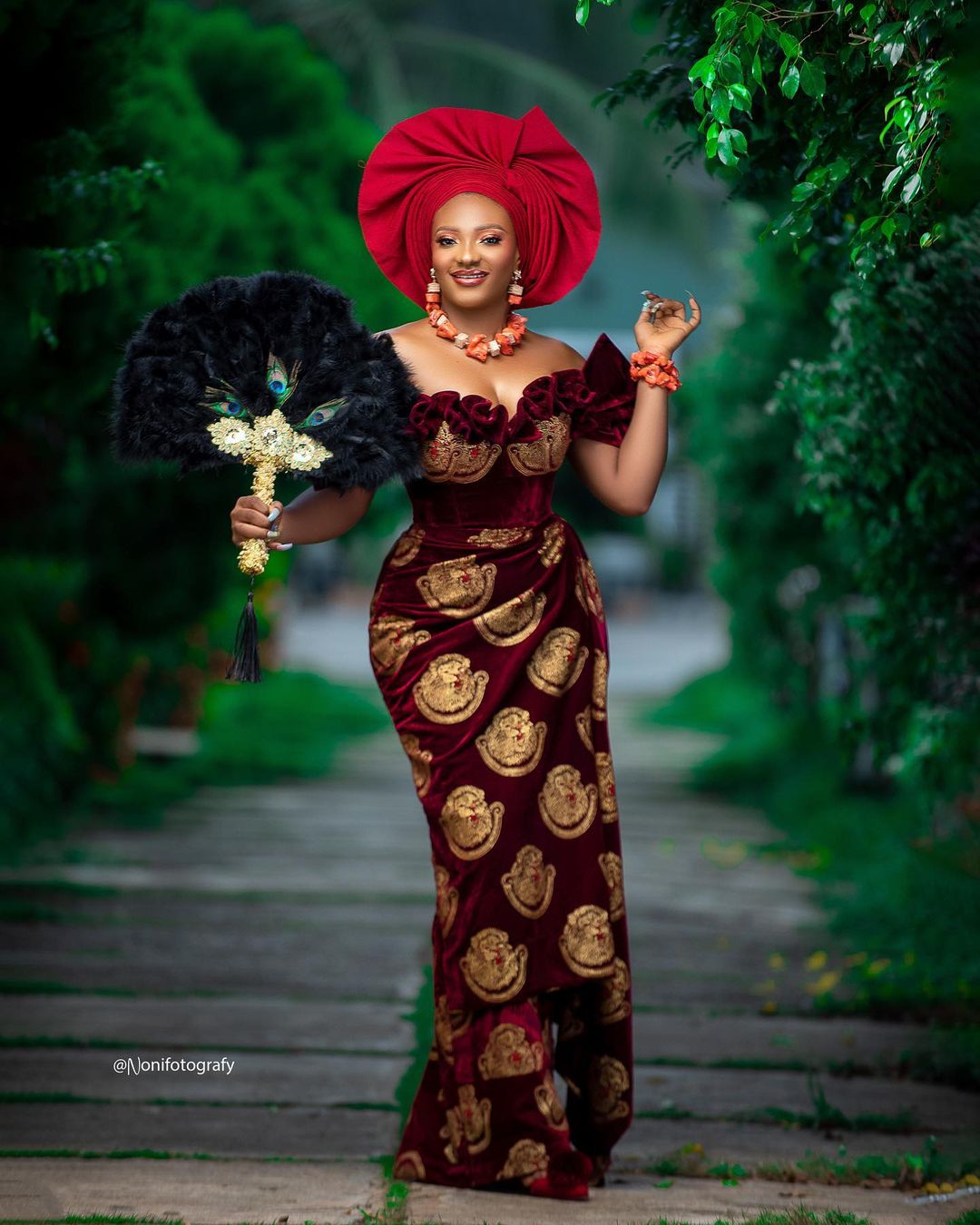 You might be interested to check out for more styles in Ankara trending Styles and thank you for your continuous love on this post Ankara Styles.
Till my next Isiagu or Fashion post, stay Creative.