Crazy Rich Asians Movie I probably would say is one of my favourite movies. I literally don't get tired watching it over and over again.
The first time I watched crazy Rich Asians was in a friend's house. You know those planned up visits and to think I almost didn't go but because I already affirmed I was coming to her house and she had cooked, I had to drag myself and keep to my word.
Did I enjoy myself? Absolutely yes! And the food was tasty but hey! Food and I though! Like I feel one "mumu" button I have is food especially if it's my local delicacy, please my village members shouldn't get me with this.
Before I came, she had already started the movie although it hadn't played for long so I joined. Meanwhile, I wasn't all that in the movie state of mind but I wasn't going to be a killer vibe so I joined while she served Food.
Initially I wasn't following the story line but she was kind enough to explain and just when I started catching up, I wouldn't let one scene pass me by, I was so engrossed in the movie and wasn't all excited when it came to an end. Like who would want to miss a scene in Crazy Rich Asians.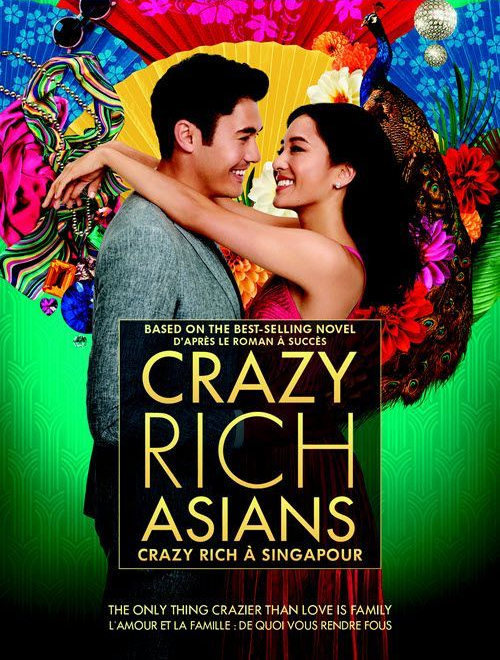 Having watched it a couple of times after then, I already feel like I know what kind of house I want, like the aesthetic value of the house was breathtaking. I give it to Asians when it comes to aesthetics.
I got to learn one or two from Crazy Rich Asians about Chinese: like blue and white being worn to chinese funeral as against my beautiful country where, black is associated with burial for reasons I can't comprehend and red symbolizing fortune and fertility to Chinese.
Thinking about it, red colour could pass as love colour when worn on Valentine and Christmas period with maybe a touch of white but normally I think red colour to Nigerians signifies danger, no wonder most nollywood movies showcase native doctors wearing red or their shrines having red clothe or background .
Oh my exciting scenes are
When their bags were about to be checked into first class and Rachel said, nah there must be a mistake somewhere, lady has already planned out how they will eat her mum's homemade dish and be checked into economy class without knowing she's dating the most eligible rich bachelor. If na for some people, them for blow them trumpets that na from boujee family them come from, we for go dey hear, you Sabi me? Ima onye mbu.
When Astrid met the little  girl and when she went in to buy jewellery. Like wow those jewelries are super cool and that company has good market strategy. Well, you wouldn't expect anything less from China that is seen as the home/root of all businesses.
Would like to have one Chinese friend like rich Asians and step up my business game, those guys know whatsup. You know what's like treating your top customers with respect? Showing them first hand your goods and you think they wouldn't keep coming back?
I said wow when I saw Peiklin's house, the gold finishing and smiled when her mum said, they were inspired by the Hall of mirrors Versailles plus Donald Trump's bathroom… seriously? But when I saw Nick young's mansion I gaped. Where are these architects from? like this is cool!
Next for me was when she met Astrid and both became friends to even open up about issues, reminds me of that saying, quality of friendship isn't entirely based on longevity.
You can meet someone today and it will feel like you've known them all your life and surely they are the bomb and you can be friends with someone for donkey years and know nothing about them.
Another was Rachel and her mum's scene where her mum told her, her father's story .
Well thanks to Nick's mum and P.I who did an unpaid job. Whatever happens in the past remains in the past but they wouldn't listen because they are money bag family…yimu and wow, Nick stood for Rachel supporting her claim that she Rachel knows nothing other than what's she's been made to believe about her father. Love in Tokyo .
Crazy Rich Asians movie has good and annoying parts especially with Aramintas clique of friend, jobless spoilt set of ladies on the lookout for freebies.. mtscheeeew.
This movie has me thinking of being super Rich and I think I might want to visit an Asian country, seems like a beautiful country plus meet the architects of those buildings in crazy Rich Asians movie.
I didn't really want the movie to end just like that, so eeerm who has movie suggestion for me, similar to crazy rich Asians movie? Might watch it next time I feel like unwinding.
Generally a good script, kudos to crazy rich Asians team…
Brb, lemme goan prepare to be a Rich Nigerian…
See ya in next post and stay subscribed. Follow on Instagram @_Zanaposh for more.